Basement Waterproofing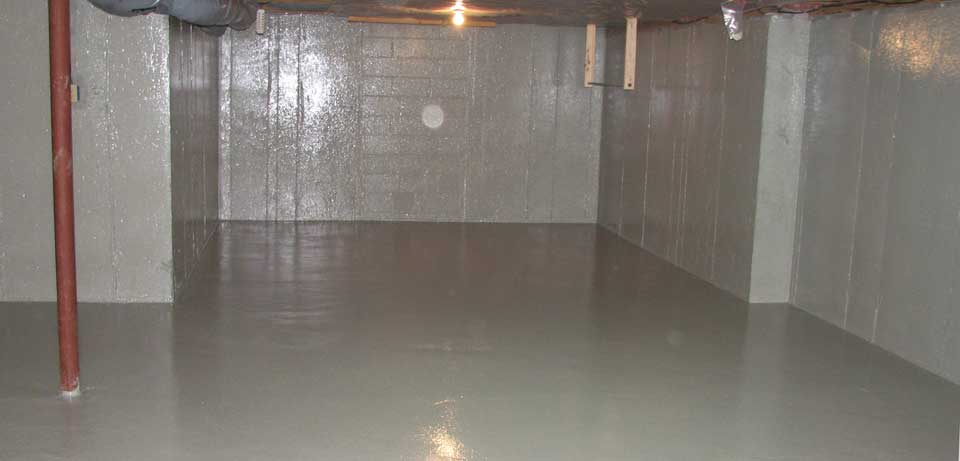 The Finished Basement is a certified contractor for the Sani-Tred basement waterproofing system for Cincinnati, Northern Kentucky and Indiana. The Sani-Tred basement sealing system stops all ground water entry, basement humidity, mildew odors, and dampness problems by sealing the basement floors and walls where they need it most — on the inside.
The Finished Basement offers our Cincinnati, Northern Kentucky and Indiana customers the only basement waterproofing product scientifically proven to work permanently.
We guarantee basements will say dry for life.
Our products are 99% effective at preventing dangerous Radon Gas from entering foundations.
Our products are safe, solvent free, non-flammable, and low VOC.
Sani-Tred Products are capable of an amazing 590% elongation, and never harden or become brittle. They maintain flexibility and become stronger with age without breaking down like other coatings do. SANI-TRED PermaFlex deeply penetrates and strengthens weak concrete or mortar joints which prevents detachment from these types of weak substrates as other coatings are known to do.
Our competitors jack hammer your basement floor and install perimeter French drains. They then allow the water to run down your basement walls into these drains before they are pumped back outside your basement.
The Finished Basement's waterproofing systems create a permanent sealed barrier keeping 100% of the water outside of your basement 100% of the time for life without jackhammering your floor. It also prevents 99% of deadly, cancer-causing Radon Gas from entering your basement.
The Technology Behind SANI-TRED
Thanks to unique technical breakthroughs in polymer chemistry, a complete, permanent indoor or outdoor waterproofing and repair system is finally available. SANI-TRED offers technologies not found in any other product.

Flexible Penetration Technology®
PermaFlex penetrates deeply into the pores of the building materials, then cures as tough as a truck tire. PermaFlex will never bubble, peel or delaminate!

Permanent Elongation Technology®
SANI-TRED products never become hard or brittle with age. They maintain their flexibility indefinitely — with over 590% elongation!

Elongation Memory Technology®
This physical quality ensures that when SANI-TRED products are compressed and relaxed they always return to their original size and shape.
What Makes the Sani-Tred Waterproofing System Different From Other Cinicnnati Waterproofing Companies?
---
We start by preppring the concrete or cement block. Our trained installers will sandblast the basement walls and remove the top layer of the basement floor to open up the pores of the concrete, making sure it is clean, dry and free of any previously applied product.
Next we apply 1 coat of PermaFlex®. The first coat of PermaFlex penetrates deep to permanently lock and seal withing the pores of the concrete. Then we "Patch" and profile any joints, seams, cracks, holes and rough areas, to provide a smooth, finished look.
Finally we apply 1 coat of PermaFlex®. The second coat begins filling the pores and any holes near the surface. The PermaFlex® basement waterproofing products permanently adhere to concrete, sealing out water and dangerous Radon gasses.